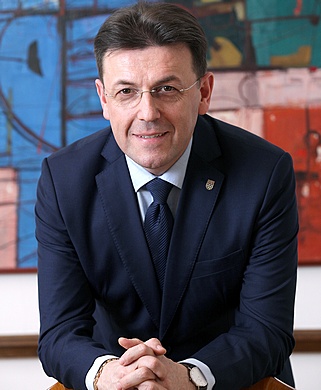 Luka Burilović President of Croatian Chamber of Economy
Burilović earned his Master's degree in economy on the Faculty of Economy in Osijek. There, he also finished his postdoctoral program of Master in Organization and Management and he is currently enrolled in Ph.D. program on the same University. Prior to his position of the President of the CCE, he was Chairman of Board in Sladorana Ltd. in Županja and before that he was Deputy Chairman of the Board in the same company. Since April 2004 till February 2006, he worked as Assistant Minister at the Ministry of Agriculture, Forestry and Water Management. Since 1996 until 2004 he was Deputy Chief at the Municipality of Nijemci and before that, he was manager and owner of Agrotehna from Lipovac.
He fought as the volunteer in Croatian War of Independence.
Rooseveltov trg 2, 10000 Zagreb
Tel: +385 (0)1 456-1712; 456-1713 Fax: +385 (0)1 482-8365
predsjednik@hgk.hr